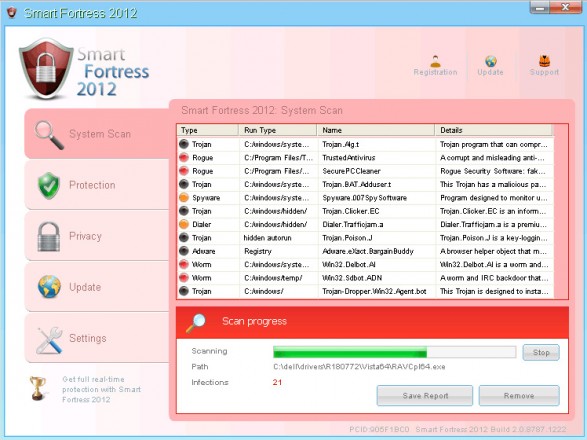 The scareware package Smart Fortress has popped up its ugly head again. For those unfamiliar a screen like the one pictured here appears on startup, it will then begin a fake security scan informing the user that the computer is infected with all sorts of nasties. It also takes over the .exe file association not allowing any programs to launch and informing you that the program you tried to launch has been infected. You are then presented with a screen telling you the kind folks at Smart Fortress will fix your computer for you for a nice large sum of money.
This is an old trick. This malware has been around for years now. I hope I don't need to tell you do not under any circumstances give them any personal information or even think of paying their fee.
Smart Fortress updates itself constantly and this time around it is exceptionally nasty and hard to remove. Its attack vector seems to be the good old links in an e-mail. The most recent one I have seen tells you that you have a package from FedEx and need to click on the link for more info. I've also seen job offers, notices about running a red light camera… Do not click on links in any unexpected e-mails. If you get an e-mail from FedEx, do not click on the e-mail link. Instead type FedEx.com into your web browser.
If you are infected with this virus please turn off your PC and contact us immediately.
kissimmee saint cloud osceola county 192 34769 34744 34772 34771 34743 34746